I've had to put my early guitar project on hold for a little while, while I attend to my clients orders.  I hope to get back to them mid year when I plan to have these guitars made and shipped to my clients.  The very start of the process for the guitars coming is to make another lot of necks which will take care of over a years worth of guitars, which isn't really that many due to the intensity of the work!  Here are a few photos of some of the process to get the necks at the point just before they are ready for new builds.  The idea is to leave them with just enough finishing and roughing out so that I still have the flexibility to choose scale lengths, and neck dimensions for custom orders.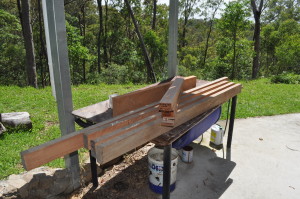 Rough quarter sawn Queensland Maple picked out from a local specialist timber yard.  Queensland Maple has no relation to the Maples of Europe and America, but is closer in function and mechanical properties to Brazillian Mahogany.  A little lighter in colour but can be dense and strong, and tougher to work.  Grain is similar with slightly interlocking grain, but also slightly more closed grained in texture.  Excellent local Australian neck timber for guitars.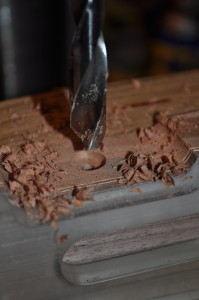 Close up of head stock in my jig which is mounted to my bench drill.  Here is the drilling of the roller holes at 10.5mm with a nice brad point bit.  Only after the holes are drilled do I route out the slots, to minimize any tear out or chipping from the drill bit.
You must be logged in to post a comment.